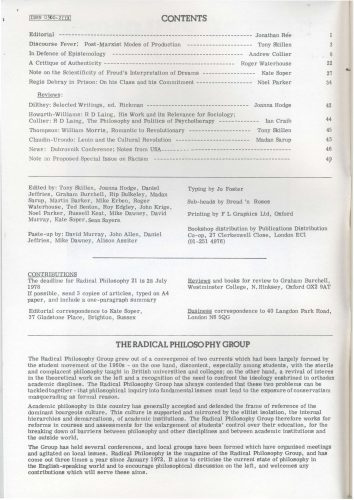 CONTENTS
IISBN 030 0-2IIXI
Editorial ————————————————————– Jonathan Ree
Discourse Fever! Post-;Marxist Modes of Production ——————— Tony Skillen
1
In Defence of Epistemology
Andrew Collier
8
Roger Waterhouse
22
——————————————
A Critique of Authenticity ——————————————
Note on the SCientificity of Freud's Interpretation of Dreams —————–
3
Kate Soper
27
Regis Debray in Prison: On his Class and his Commitment —————— Noel Parker
34
Reviews:
Dilthey: Selected Writings, ed. -Rickman ——————————— Joanna Hodge
42
Howarth-Williams: R D Laing, His Work and its Relevance for Sociology;
Collier: R D Laing, The Philosophy and Politics of Psychotherapy ————-
!an Craib
44
Thompson: William Morris, Romantic to Revolutionary ——————–
Tony Skillen
45
Claudin-Urondo: Lenin and the Cultural Revolution ————————
Madan Sarup
45
News: Dubrovnik Conference; Notes from USA——— ———————————
46–
Note on Proposed Special Issue on Racism
4~
——————————————–
Edited by: Tony Skillen, Joanna Hodge, Daniel
Jeffries, Graham Burchell, Rip Bulkeley, Madan
Sarup, Martin Barker, Mike Erben, Roger
Waterhouse, Ted Benton, Roy Edgley, John Krige,
Noel Parker, Russell Keat, Mike Dawney, David
Murray, Kate Soper, Sean Sayers,
Sub-heads by Bread 'n Roses
Paste-up by: David Murray, John Allen, Daniel
Jeffries, Mike Dawney, Alison Assiter
Bookshop distribution by Publications Distribution
Co-op, 27 Clerkenwell Close, London ECl
(01-251 4976)
CONTRIBUTIONS
The deadline for Radical Philosophy 21 is-28 July
1978
If pOSSible, send 3 copies of articles, typed on A4
paper, and include a one-paragraph summary
Editorial correspondence to Kate Soper,
37 Gladstone Place, Brighton, Sussex
Typing by Jo Foster
Printing by F L Graphics Ltd, Oxford
Reyiews and books for review to Graham Burchell,
Westminster College, N. Hinksey, Oxford OX2 9AT
Business correspondence to 40 Langdon Park Road,
London N6 5QG
THE RADICAL PHILOSO PHY GROUP
The Radical Philosophy Group grew out of a convergence of two currents which had been largely formed by
the student movement of the 1960s – on the one hand, discontent, especially among students, with the sterile
and complacent philosophy taught in British universities and colleges; on the other hand, a revival of interes
in the theoretical work on the left and a recognition of the need to-confront the ideology enshrined in orthodox
academic displines. The Radical Philosophy Group has always contended that these two problems can be
tackled together – that philosophical inquiry into fundamental issues must lead to the exposure of conservatism
masquerading as formal reason.
Academic philosophy in this country has generally accepted and defended the frame of reference of the
dominant bourgeois culture. This culture is supported and mirrored by the elitist isolation, the internal
hierarchies and demarcations, of academic institutions. The Radical Philosophy Group therefore works for
reforms in courses and assessments for the enlargement of students' control over their education, for the
breaking down of barriers between philosophy and other diSCiplines and between academic institutions and
the outside world.
The Group has held several conferences, and local groups have been formed which have organised meetings
and agitated on local issues. Radical Philosophy is the magazine of the Radical Philosophy Group, and has
come out thre-e times a year since January 19'12. It aims to criticise the current state of philosophy in
the English-speaking world and to encourage philosophical discussion on the left, and welcomes any
contributions which will serve these aims.