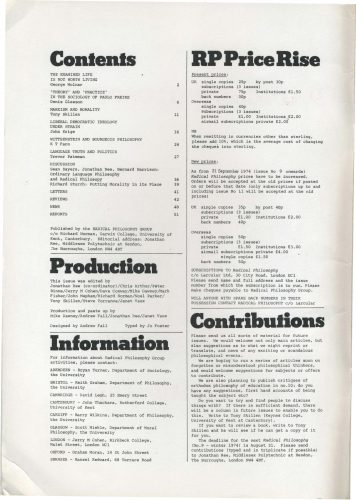 Conlenls
BPP.-iceBise
Present prices:
THE EXAMINED LIFE
IS NOT WORTH LIVING
George Molnar
2
'THEORY' AND 'PRACTICE'
IN THE SOCIOLOGY OF PAULO FREIRE
Denis Gleeson
6
MARXISM AND MORALITY
Tony Skillen
11
LIBERAL DEMOCRATIC IDEOLOr,y
UNDER STRAIN
John Krige
16
WITTGENSTEIN AND BOURGEOIS PHILOSOPHY
K T Fann
24
LANGUAGE TRUTH AND POLITICS
Trevor Pateman
27
DISCUSSION
Sean Sayers, Jonathan Ree, Bernard Harrison:
Ordinary Language Philosophy
and Radical Philosopy
Richard Sturch: Putting Morality in its Place
41
42
NEWS
48
REPORTS
51
This issue was edited by
Jonathan Ree (co-ordinator)/Chris Arthur/Peter
Binns/Jerry M Cohen/Dave Conway/Mike Dawney/Mark
Fisher/John Mepham/Richard Norman/Noel Parker/
Tony Skillen/Steve Torrance/Janet Vaux
Production and paste up by
Mike Dawney/Andrew Fall/Jonathan Ree/Janet Vaux
Designed by Andrew Fall
Typed by Jo Foster
Info.-malion
For information about Radical Philosophy Group
activities, please contact:
ABERDEEN – Bryan Turner, Department of Sociology,
the University
BRISTOL – Keith Graham, Department of Philosophy,
the University
CAMBRIDGE – David Leon, 25 Emery Street
CANTERBURY – John Thackara, Rutherford College,
University of Kent
CARDIFF – Barry Wilkins, Department of Philosophy,
the University
GLASGOW – Scott Miekle, Department of Moral
Philosophy, the University
LONDON – Jerry M Cohen, Birkbeck College,
Malet Street, London WCl
OXFORD – Graham Moran, 14 St John Street
SWANSEA – Mansel Kedward, 68 Terrace Road
NB
When remitting in currencies other than sterling,
please add 10%, which is the average cost of changing
the cheques into sterling.
As from 31 September 1974 (issue No
36
39
REVIEWS
P:roducI ion
single copies 25p
by post 30p
subscriptions (3 issues)
private
75p
Institutions El.50
back numbers
30p
Overseas
single copies 40p
subscriptions (3 issues)
private
El.OO Institutions , ~2.00
airmail subscriptions private E2.00
New prices:
LETTERS
Published by the RADICAL PHILOSOPHY GROUP
c/o Richard Norman, Darwin College, University of
Kent, Canterbury. Editorial address: Jonathan
Ree, Middlesex Polytechnic at Hendon,
~he Burroughs, London NW4 4BT
UK
9 onwards)
Radical Philosophy prices have to be increased.
Orders will be accepted at the old prices if posted
on or before that date (only subscriptions up to and
including issue No 11 will be accepted at the old
prices)
UK
single copies 35p
by post 40p
subscriptions (3 issues)
private
El.OO Institutions E2.00
back numbers
40p
Overseas
single copies SOp
subscriptions (3 issues)
private
£1.50 Institutions £3.00
airmail subscriptions private £4.00
single copies El.50
back numbers
SOp
SUBSCRIPTIONS TO Radical Philosophy
c/o Larcular Ltd, 30 City Road, London ECl
Please send name and full address and the issue
number from which the subscription is to run. Please
make cheques payable to Radical Philosophy Group.
WILL ANYONE WITH SPARE BACK NUMBERS IN THEIR
POSSESSION CONTACT RADICAL PHILOSOPHY c/o Larcular
Conl.-ibulions
Please send us all sorts of material for future
issues. We would welcome not only main articles, but
also suggestions as to what we might reprint or
translate, and news of any exciting or scandalous
philosoph~cal events.
We are hoping to run a series of articles soon on
forgotten or misunderstood philosophical thinkers,
and would welcome suggestions for subjects or offers
to contribute.
We are also planning to publish 'critiques of
orthodox philosophy of education in no.10: do you
have any suggestions, first hand accounts of being
taught the subject etc?
Do you want to try and find people to discuss
things with? If there is sufficient demand, there
will be a column in future issues to enable you to do
this. Write to Tony Skillen (Keynes College,
University of Kent at Canterbury) .
If you want to review a book, write to Tony
Skillen and he will see if he can get a copy of it
for you.
The deadline for the next Radical Philosophy
(No.9 – winter 1974) is August 31. Please send
contributions (typed and in triplicate if possible)
to Jonathan Ree, Middlesex Polytechnic at Hendon,
The Burroughs, London NW4 4BT.